Brent Abel
USA National Tennis Champion & All-Court Tennis Coach
by Joel Drucker
Having covered tennis for a living for more than 25 years, I've had the chance to interview and learn from tons of wise people. Hall of Famers such as Billie Jean King, Martina Navratilova, Jimmy Connors, John Newcombe and Pancho Segura have all given me insights that not only help me write about the sport I love but play it better too.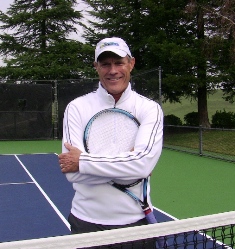 Brent Abel is another of those keen minds. We both play at the same club in Berkeley, California. Over the last 15 years, we've spent hours on and off the court, picking apart tennis, fitness, health and the psychology of competition and improvement.
Whenever I talk with Brent, I realize that at heart we're pursuing the answer to one big question: How do I get better? As the line goes from a movie we both enjoy, The Shawshank Redemption: you either get busy living, or get busy dying.
See, to me Brent is a seeker – someone who explores his passions with both the big picture and the practical in mind. Whether he's trying to figure out a way to treat an injury or improve a tennis game, Brent is concerned most of all with real-world situations, concrete problems and workable solutions that genuinely help people enjoy themselves that much more.
I love the way Brent is personally invested in his material. As a tennis player, he was no ranked junior player. Instead, more than 20 years after he picked up a racquet, when he was already working as a teaching pro, Brent decided that his knowledge of the game – and his own playing standard -- was based more on clichés than genuine knowledge.
It felt artificial to him. Brent was concerned that he wasn't truly helping his students.
So Brent took a gutsy move: He sought out the help of one of the game's top tennis teachers and completely rebuilt his game. Working with legendary coach, Tom Stow, Brent spent two years relearning how to move, think and hit the ball. In the short term, he paid a price, losing lots of matches to players whom he normally beat. But in the long term, Brent became not just a significantly better player, but a much wiser person.
He learned that there are true fundamentals to what works, not only with his tennis teaching and playing, but also with his practical advice for helping others with their injuries.
Having taken lessons from Brent, I'm always impressed by his ability to help me in a way that's useful for my particular game. I'm not talking about a clever gimmick. But I am talking about an idea that I can see clearly pretty rapidly – and then be encouraged to improve through a few of Brent's drills and routines.
Many teachers can give pointers left and right, but not many can think like Brent and wed their insights into a larger framework of how to play and enjoy an activity in a way that's effective, enjoyable – and keeps your body sturdy too.
The information he offers on his various injury treatment websites is darn useful too.
Brent's fully aware that he's not a doctor. But through suffering his share of injuries – heel, elbow, shoulder, knee, Achilles tendons and more – and constantly communicating with his tennis colleagues, trained medical experts, and his ever-expanding on-line community, Brent has identified some practical and affordable solutions that provide astonishingly fast and long lasting pain relief.
But this guy doesn't just talk about sports and health. He participates.
Over the last 20 years Brent has dedicated himself most of all to raising his three daughters. With more time available time now since his two oldest kids are now in college, his interest in helping his local and online tennis students and other folks from around the world with their various injuries, Brent has found what he feels is an incredible way to help others – the internet.
Brent and his wife Mai, who is also one of the country's top senior tennis players, love to travel and be with their friends.
Brent continues his passion for playing competitive tennis. Whenever he enters the competitive tennis arena Brent shows with exemplary discipline and passion what it takes to prepare, practice and compete effectively.
Five years after Brent made the decision to revamp his own tennis game with Mr. Stow back in 1979, he won his first national U.S. title. Since then he's perennially among the top seven players in the United States in his age group.
It's admirable to see someone roll up his sleeves and practice the same way he recommends to his students. It's also a lot of fun.
Joel Drucker is one of the world's leading tennis writers. His work regularly appears in a variety of print and broadcast media, including ESPN, Tennis Week and Tennis Channel. His first book, Jimmy Connors Saved My Life, is considered one of five must-read tennis books by Sports Illustrated.
Competitive Player

1984 USTA National 35s Doubles Hardcourts Champion
1987 California State 35s Singles and Mixed Doubles Champion
2000 USTA National 50s Hardcourts 3rd place in singles, doubles, and mixed
2001 USTA National 50s Hardcourts Finalist (2nd) in singles
2002 USTA National 50s Hardcourts 3rd place in doubles
Numerous northern California Men's Open and Senior singles and doubles titles since 1979
2005 Quarterfinalist (defeated the #5 seed 6-0, 6-0) National 55 Indoors in singles
2005 Pacific Coast Seniors Doubles 55s Champion
2006 Pacific Coast Seniors Doubles 55s Champion
2008 Babolat Palm Springs Doubles 60s Champion
2008 Babolat Palm Springs Doubles 55s Finals (Rained Out)
2008 National Doubles 55s Indoors 3rd Place Bronze Ball
2008 National 60s Singles Hardcourts Quarters
2008 National 60s Doubles Hardcourts Semis
2008 Marin 60s Singles Champion
2008 National 60s Indoors 3rd Place Bronze Ball
2008 National 60s Indoors Doubles Quarters
2009 National 60s Hardcourt Singles Champion
2009 National 60s Hardcourt Doubles Semis
2009 Pacific Coast 60s Singles Champion
2009 Pacific Coast 60s Doubles Finals (Rained Out)
2009 Marin 60s Singles Champion
2009 Marin 60s Doubles Champion
2009 World Team Matches - USA VonCramm Cup Team Member - Silver Medalists - Perth Australia
2009 World Individual Tournament - 60s Doubles Bronze Medal - Perth Australia
2010 National 60s Hardcourt Singles Quarterfinalist and Doubles Finalist

Teaching Professional

John Gardiner's Tennis Ranch, Carmel Valley, CA
Dennis vanderMeer - Berkeley Tennis Club, CA
Barry MacKay Sports, Bear Valley & Pajaro Dunes, CA
Pierre Barthes, Cap d'Agde, France
Stonebridge CC, Memphis, TN
Donna Floyd Fales, Key Biscayne, FL
Moraga CC, Moraga, CA
Tiburon Peninsula Club, Tiburon, CA
California Tennis Club, San Francisco, CA