The Tennis Grips
Why do we need different grips when we play tennis?
There are 2 primary reasons for being able to have different grips available to us at any time during a point.
Anatomically correct grips allow us to align the racket face against the ball at contact to help us "receive" incoming balls naturally rather than having to "fight off" balls at contact.

Proper grips are more "player friendly" and significantly reduce the potential for short and long term injuries (tennis elbow, rotator cuff, wrist, lower back, etc.).

Proper grips allow players to perform swing shapes that produce natural racket speed for power, spin, and placement control rather than having to "muscle up" with their strokes.

Correct grips allow us to play our shots naturally from any place on the court. If you are limited to being able to use a limited set of grips, you will forever be limited to playing from limited areas of the court.

Players who have all of the grips available to them can challenge their opponents from consistently superior court positioning (forcing your opponent to feel they have to hit outright winners to be competitive) rather than having to either outlast their opponents (as pushers) or be forced to hit outright winners from difficult court positions.

Proper grips allow players to receive what might be considered "worst case" from their opponents, shots that are hit with a combination of speed, depth, and spin. This means you do not have to give up superior court positioning to receive your opponents' best shots.

Proper grips allow us to transition from the baseline to the net in order to play 1/2 volleys and other transitional shots from less than optimal court positions (no-man's land).
Below is a list of the grips in tennis, their associated strokes, and links to videos that describe each grip and its benefits.
Reference Points for Grips Video
The Grips & Their Strokes
Eastern Forehand Grip

Ready Position for Groundstrokes
Forehand Groundstroke Topspin & Flat Drives
Forehand Flat & Topspin Approach
Two-Handed Backhand Groundstroke Topspin & Flat Drives (Upper Hand)
Forehand 1/2 Volley
Topspin or Flat Lob

Eastern Backhand Grip

One-Handed Backhand Groundstroke Topspin & Flat Drives
Two-Handed Backhand Groundstroke Topspin & Flat Drives (Lower Hand)
Serve
One-Handed Backhand 1/2 Volley
Topspin or Flat Lob

Two-Handed Backhand Grip

Two-Handed Backhand Groundstroke Topspin & Flat Drives
Two-Handed Backhand Approach
Two-Handed Backhand 1/2 Volley

Continental Grip

Ready Position for Groundstrokes
Ready Position for Return of Serve
Serve
Overhead
Forehand Groundstroke Slice
One-Handed Backhand Groundstroke Slice
Forehand Volley
Backhand Volley
Two-Handed Backhand Groundstroke Topspin & Flat Drives (Upper Hand or Lower Hand)
Forehand Slice Approach
One-Handed Backhand Slice Approach
Forehand 1/2 Volley
One-Handed Backhand 1/2 Volley
Slice or Flat Lob

Semi to Full Western Forehand Grip

Specific Forehand Groundstroke Topspin Drive
Topspin Lob
Eastern Forehand Grip
Click the photo below to view the video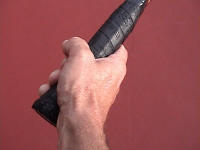 Eastern Backhand Grip
Click the photo below to view the video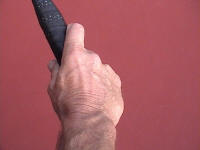 Two-Handed Backhand Grip
Click the photo below to view the video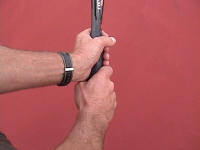 Semi to Full Western Forehand Grip
Click the photo below to view the video