How 3 Simple "Moves"
Will Take Your 1st & 2nd Serves
Up An Entire Skill Level Within
Your First 50 Practice Serves!
Veteran Tennis Teaching Professional Brent Abel, 2009 U.S. National 60s Hardcourt Singles Champion,
Shows You The Specific 3 Magic Moves That Will Give Your Serve More Power, Spin, & Pinpoint Accuracy
Flat, Topspin, Slice, & Kick Serves
Any Tennis Player

At Any Skill Level

Willing To Put In 2 Practice Sessions

Of 25 Serves Each

Will Quickly Learn These 3 Simple "Magic Moves"

And Can Quickly Own A Solid & Dependable Serve!
Your Serve Can Look Like This....!

Want to know where & when
to play your 1st & 2nd serves?
Claim your FREE Video copy of Brent's
Top Ten Best Serving Strategies
No worries. Your contact info will remain strictly private with me and never shared with anyone else. Period.
During your very 2 practice sessions
you'll discover the 3 "Magic Moves"
of a classic fluid service motion...
Your Serve with More Natural Power

A Tighter & Faster Spin

Superb Placement Accuracy

No More Tightening Up on a 2nd Serve

Your Doubles Partners Will Always Ask YOU to Serve First!
GUARANTEED within your very first 50 practice serves...!
"Brent,
Your service dvd worked like "magic" for me.
My serve has really come along. I never had any instruction that "put it all together" like that one does.
I've recommended it to people and loaned it to them, but as you know, you can lead a horse to water, etc.
Thanks again,
Bill Hess
Just imagine...
You step up to the baseline, decide exactly where you want your serve to go, how much power you're going to deliver, and know exactly how much spin you'll need to control that power and direction...
You're confident, relaxed, and not worried about double faulting or setting up your opponent.
No more soft 2nd serves that just sit there and beg your opponent to take advantage.
No more give away points to your opponents in either singles or doubles, and no more doubles partners wishing they could be on the court with someone else.
I want to help you get there. And fast...
So, let's dispense with the pleasantries and get right to it.
It's all about discovering how to generate more racket speed.
I can easily show you how and within your first 50 practice serves your serve will have:
more power

a tighter spin

better placement control

a specific tossing motion for toss consistency and ideal hitting setup position

natural & effortless pronation, yep, I'll take the mystery out of it for you

hold serve more easily in both singles and doubles

all of this within your first 50 practice serves

GUARANTEED...
"Dear Brent!

I am completely shocked because of your fantastic advice: "THE RACKET DROP POSITION IS ACHIEVED THROUGH A VERY RELAXED HAND TENSION ON THE HANDLE".

I have tried to follow your advice with relaxed hitting arm also, especially with relaxed bending of elbow. It really works very well now. I know that I have to make a drill now every day, but most important is that I have a feeling now how to make a "racket set up position" and a "racket drop position".

Dear Brent, your advice, your very clear idea is the best gift for my birthday ( 19 May).

Thank you very much indeed. Best regards!"

Emil, New York
From: Brent Abel
Date:
Is your serve lacking the kind of power you'd like...?

Are you unsure how to to develop more spin on your serve so you could get a higher percentage of serves in play...?

Is this "pronation" thing just a little confusing...?


Are you unable to really control the direction of your serve...?


Is your 2nd serve just a "push" where your opponents are getting a real advantage...?


Would you like to make your 2nd serve a weapon where you could change pace, spin, and bounce on your 1st serve from time to time to throw off your opponents...?


Is your serve causing any stress and strain on your elbow or shoulder, or worse, do you have an arm injury that you think has been caused by your current service motion...?


Do you want to make your serve a real weapon in the "serve & volley" strategy...?


How about...

Flat 1st serves

Spin 1st serves

Topspin 2nd serves

"Kick" serves

Slice serves


In less than your first 50 practice serves... guaranteed.
"Brent,

Have been meaning to contact you for quite some time. I have been quite busy at work, etc.

I purchased the Serve Instruction about two months ago.

It has REALLY helped. I am one of those (and now I realize there are many of us), that are stuck at the "back scratch" position.

I am now getting that wonderful feeling of how to get much more racket speed just prior to contact. Your method works Brent!

I would like to say though, that the way that you explain things, and the visual material and presentation really does help."

Susan, Kansas City
Look, I know that the serve can be tricky to figure out, even if you're a top player. We all can add more power, spin, and better direction control with a couple of simple changes.
And hey, so many of the pros make the thing look so incredibly simple. It's fluid, graceful, and bang..., there's some real steam to those professional serves.
I can help you crank up your serve to new levels with my proven tennis serve instruction methods.
I won't promise that I can get you to serve just like Pete Sampras or Serena Williams, but I can show you what they do that you can model, copy, and yes, learn...
Want to know where & when
to play your 1st & 2nd serves?
Claim your FREE Video copy of Brent's
Top Ten Best Serving Strategies
No worries. Your contact info will remain strictly private with me and never shared with anyone else. Period.
What if your serve truly had
more Power, Spin, and Control...?
You would hold serve in both singles and doubles much more easily,
and you would then put a ton of pressure on your opponents to hold their serves.
No matter what skill level you are...
I have an easy to discover tennis serve instruction system for teaching the serve that I've been using for decades, and it simply flat out works...
you've got a service motion that allows you to consistently direct your serve to almost any part of your opponent's service box...

that not only do you have placement control, but your motion allows you to serve to different targets without telegraphing to your opponent where it's going...

you've got some real spin on your serve...

that you've hit a serve that's not just rotating out there in space, but a nice tight spin that helps solve both of your main problems, getting the ball safely up and over the net and then back down inside your opponent's service line...

you've now got a serve that you can really 'crank it up' on demand because your service motion is all about racket speed and not strength...

you're now able to hit a spin serve that actually lands deep in the service and has a definite 'jump' when it bounces, you know, the kicker...

winning 'free' points because you're consistently hitting that good serve right into your opponents' bodies and forcing up weak returns to your VERY happy doubles partner...

the phone's ringing off the hook because everyone and their brother and sister wants you to be their doubles partner...!

that your serving arm actually feels good and alive, no soreness, no stiffness, no tenderness...

and what if I could show you how to do this for a fraction of the cost of what a series of private or group lessons would cost you?
Here's Chapter 11
"The 3 Magic Moves Of The Serve"
A Simple Practice Drill for Developing Better Rhythm in Your Service Motion
Click the > button on the Flash player below
Why learn how to dramatically improve
your serve from me...?
After a kazillion years of teaching and having won 11 USTA Category I National gold, silver, & bronze ball titles, I absolutely know the pure fundamentals of the serve that can be easily discovered by you...

I'll show you a tennis serve instruction system that will reduce the risk of injury and give you a fluid and dependable serve for your lifetime. If you want to take it to a world class level, then go for it, because you'll have every core fundamental you could possibly need to develop a big time serve...

With over thirty five years of teaching experience, and luckily having spent time with the best teachers, I've got the system down to a simple to understand and implement 'no-brainer'...

I play the way I teach. None of this listen to me even though I've never won a match anywhere kind of thing. I've been there, won a national title, and I can help you...


I stay with you. Follow up. With my system you won't buy a manual or some product from me and then never hear from me again. Helping you improve is obviously about getting you the right info in a learnable format, but equally important it's about teaching you on an ongoing basis how and what to practice.


The bottom line is this, my system gets results... now and on a continued basis.
"Two things in particular with your serve instruction have been excellent.
The pinkie off, or partially off the racket grip and keeping the left arm straight - which ensures the left shoulder becomes higher than the right shoulder in the "set to launch" position. With the toss in front and slightly to the right - one can develop an excellent power serve with some practice, as I am in the process of doing so now!

Good work Brent!"

Furhad, Canada
I Promise to Make You a Better Player...
Look, what's it cost these days to get a one hour private lesson from a tennis professional that actually understands this tennis serve instruction stuff and can truly help you? Probably at least $65 an hour.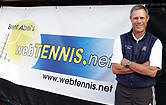 And once you leave that lesson court, the chances are huge that'll walk away empty handed. Even if you've received the right info, fine, but you'll literally have nothing but your notes to refer back to when you've got questions.
For about a fraction of what you'd pay for a one hour private, I'll give you a complete system for taking your serve to new levels. And that system will always be there for you, which includes unlimited email and phone support from me...
You'll dramatically improve your serve within your first 50 practice serves, guaranteed.
Here's how you're going to do it with over 90 minutes of no nonsense, straight to the point instructional video...
You get immediate access to to the PDF eBook that contains the download links for the 17 video lessons of the precise elements, stroke mechanics, and body positions you need to learn to develop a solid serve.

The video lessons play directly from your computer.


If you order either the video DVD or CD version, I'll immediately ship to you your video DVD or CD within one business day of your order.


You'll get full time unlimited support from me by either email or phone. I'm here to answer each and every one of your questions. Look, I want to help you take your serve to where you want it to be. No problem...


And of course, you'll receive my no-risk 100% money back guarantee. Simple and to the point. I want you to know that your investment in improving your serve is guaranteed.
Plus, you'll get these BONUSES...
Once you order your Serve Lesson, you'll immediately receive these additional serve lesson bonuses...
A one of a kind step by step video evaluation of Pete Sampras' serve. Arguably one of the great service motions of all time, Brent takes you through each element of Pete's serve and shows you exactly what to copy and model.


SPECIAL BONUS video instruction download link included:
The Mental Skills Needed to Maximize Your Tennis Serve: Included in this lesson is an on-court video lesson I did with Jeff Greenwald, one of the world's top sports psychology consultants, and the world's #1 ranked player in Men's 35 singles in 2003.

This video lesson is a vital ingredient to your success in truly taking your serve to a new level.


My 18 page PDF eBook titled "How to Develop True Confidence in Your Tennis Game". I'll refer you to the section of how to maximize your play in competitive matches with my between points four part routine. This routine will put your mind in a place where you'll be able to maximize your ability to play points naturally and instinctively, without fear...


A series of follow-up emails with links to additional video tips, one per week, with reminders, tips, and more practice ideas and drills.
OK, let's do this. Let's take your serve to a new level
in your first 50 practice serves.
Your 100% Satisfaction Guarantee:
I will personally guarantee I can help you can make this happen for your serve or I'll send you back 100% of your purchase price, no questions asked.
Pick which version of the serve lesson you prefer,
(all versions contain the same instructional videos)
and let's get your serve to be a true asset to your game
in the next 2 minutes....!
If you have a dial-up modem, you will not be able to download the videos. You should choose either Version 1 or 2.
Outside of U.S. Shipping: There are NO additional shipping charges for the CD or DVD versions to anywhere in the world.
Shipping: No additional shipping fees to anywhere in the world. CD & DVD versions are placed into the US Postal mail within the next business day of your order.

Claim Your Serve Lesson Below
Version #1:
DVD & Immediate Online Access - $37
Immediate download access and a DVD is shipped to you that plays in all DVD players
Claim Your Copy Now with Credit Card or PayPal
Version #2:
Computer CD & Immediate Online Access - $37
Immediate download access and a data CD is mailed to you that plays the instructional videos from your computer's CD drive
Claim Your Copy Now with Credit Card or PayPal
Version #3:
Online Only (No CD or DVD) - $27
Requires a high speed internet connection (DSL, Cable, or faster)
Claim Your Copy Now with Credit Card or PayPal

---
100% Tennis Player Satisfaction GUARANTEE
If I can't help you dramatically improve both your 1st and 2nd serves in the next 30 days to your complete satisfaction, then just let me know, and I'll promptly refund 100% of your purchase price.
P.S. Remember, your serve can only get better with my offer to improve your serve in your first 50 practice serves. Your purchase in dramatically improving your serve within your first 50 practice serves is 100% guaranteed.
Let's get started in the next 2 minutes.
Let me know if you have any questions at brent@webtennis.net.
Thanks... Brent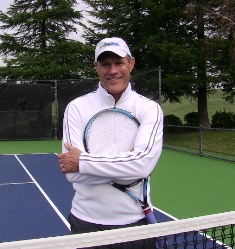 Contact Email: brent@webtennis.net Support Phone: 1-925-246-5551 Skype: webtennis