Plantar Fasciitis
How to Treat and Prevent
Here's how you can quickly treat your plantar fasciitis injury without injections, steroid creams, and other meds.

Guaranteed.
---
Brent's Highly Recommended
Plantar Fascia Injury Treatment Aids
Hi, Brent Abel here, and I've probably tried them all at some point, not only for my own treatments way back when, but also when I receive suggestions from others.
My methods for treating your plantar fasciitis injury are very simple, but can be helped along with a few specific aids that I fully recommend.
Keeping your plantar fascia stretched out is one of the keys to providing a "healing environment" for your injury.
Here are a few aids that I have thoroughly tested for their effectiveness, durability, and most of all, product quality.
---
The Arch Pro-Tec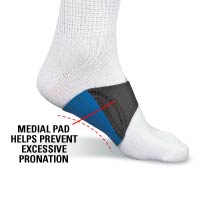 The Arch Pro-Tec supports the plantar fascia (the fibrous band of tissue that runs along the sole of the foot, from the heel bone to the base of the toes) and subsequently alleviates soreness, inflammation and discomfort in the arch and heel region.
Features & Benefits of Arch Pro-Tec:
Supports the plantar fascia to relieve arch and heel pain.
Adjustable hook-and-loop closure to control the amount of compression.
CoolMax® mesh provides breathability.
Order your Arch Pro-Tec
& other high quality plantar fascia injury treatment aids
Click here
---
Passive Night Splint


I remember the very first night splint I tried many years ago. It was pure torture...
I'd wake up every night with my calf muscle in a complete spasm. It kept my fascia stretched out nicely, but the pain from my calf cramping wasn't worth the effort.
I tried other products, but nothing worked because all of the night splints were "one size fits all". Until this Night Splint product.
I use this now from time to time even though I no longer have a plantar fascia injury. It's super comfortable and easy to adjust for a perfect fit for any foot...
The

Chronic heel pain from plantar fasciitis is often worse in the morning. Now you can get the same professional nighttime relief prescribed by podiatrists and orthopedists with our Night Splint. This adjustable splint holds the foot and toes in a flexed position throughout the night, stretching the plantar fascia and the Achilles tendon to relieve pain.

Note: Intended for nighttime use only.

Features & Benefits of the Night Splint
Keeps foot and toes flexed at night to relieve morning pain.

The removable, washable, soft padded velour won't get caught in bed linens.

Hook-and-loop closure can be easily adjusted.
Order your Night Splint
& other high quality plantar fascia injury treatment aids
Click here
---
Pro Stretch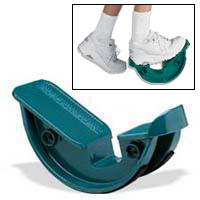 The Pro Stretch makes a ton of sense for plantar fasciitis. This treatment aid stretches out not only your calves, but also does a great job of stretching out the small muscles in your feet.
I'm a HUGE believer that we tend to work out our large muscles way too much, both in stretching and strengthening. It's the stretching of the smaller muscles that needs your attention to providing a proper "healing environment".
Features & Benefits of Pro Stretch:
Pro Stretch stretches the foot in the proper position to relieve heel pain.

Just three repetitions of 30 seconds each safely and effectively stretches to relieve lower body pain, easy to work into even the busiest schedule.

Relieves pain associated with plantar fasciitis, Achilles tendonitis, ankle strain, arch pain and other chronic conditions.
Order your Pro Stretch
& other high quality plantar fascia injury treatment aids
Click here
---
Stretch-Rite Trainer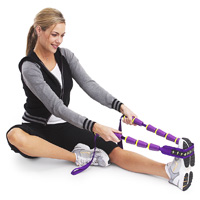 This stretching method is the #1 stretch I use to prevent future plantar fascia injuries.
With as much tennis as I play, there is a constant pounding on my plantar fascia area.
Any time I feel any "twinge" or pain at all in my fascia area, I go straight to this treatment aid, the Stretch-Rite Trainer, and work both feet for about 5-7 minutes per foot.
It is absolutely amazing to me how this works every time for me.

Regular stretching of your leg, foot and calf muscles can keep you more flexible and help you avoid injury. Since you have control over your movements, you won't bounce or jerk and will enjoy a smooth stretching experience.
Use Stretch-Rite for just a few minutes each day to remove tightness and increase flexibility.
Features & Benefits of Stretch-Rite Trainer:
Adjust the length of the Stretch-Rite to accommodate your body's length and flexibility.

Ergonomically designed handgrips allow you to stretch in stages and visually monitor your progress.

Increase tension by changing your handgrip position.
Other Important Information About Stretch-Rite Trainer:
Includes a foldout personal training Coaching Guide illustrating the best stretches for your specific sport or activity and diagrams of 20 detailed stretches.

Material Content: Plastic handles, Polyester strap.

Measurement: 67" long.

Made in USA.
Order your Stretch-Rite Trainer
& other high quality plantar fascia injury treatment aids
Click here
---
John Benson's "Simply Eat"
Weight Loss & Fitness Program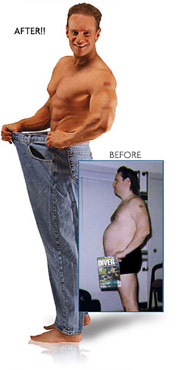 Look, I've always felt squeamish talking about weight loss, diets, etc. to my tennis students, friends, heck, even my family members...
Fitness and weight control are not problems for me. I love being fit, and as a professional tennis teacher / coach and a full time tournament player, being unfit just makes zero sense.
And by the way, that's not me to the right, that's the great Jon Benson who has developed an extraordinary weight loss program that is not a classic "diet", but a program that not only helps you shed unwanted pounds, but also helps get you fit.
Most of us know what's good for us and w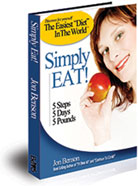 hat's not good for us when it comes to certain kinds of foods.
Because of the many students I've helped lose weight and achieve at least a decent level of fitness is this...
The psychological skills needed to shed pounds, and most importantly, keep those pounds off, is the true art form here in helping folks lose weight, get fitter, and really enjoy the benefits of daily living with a healthy and energetic body.
Jon Benson has figured this thing out in a way that I wish had way back when. Jon's downloadable eBook, "Simply Eat", is nothing short of simply incredible.
As I mentioned before, the mental aspects of losing weight and getting fit are the key to success.
Jon's presentation and description of these mental skills, how to easily practice the right thinking, and eventually become the master of what you put in your mouth, is a gift that very, very few individuals out there have been able to so beautifully articulate...
If you're truly sick and tired of carrying around extra weight, of not being as fit as you want to be, then I encourage you to visit Jon's website and get started right now.
Click here to get more info on Jon Benson's "Simply Eat" plan...
---
"Plantar Fasciitis: The Insider Secrets to Fast Healing,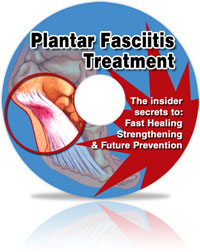 Strengthening, and Future Injury Prevention" is comprised of 8 videos that will take you step by step through each one of the 3 different treatment phases.
This product comes in three versions.
Immediate Download only OR

Immediate Download and Video CD (plays in your computer's CD drive) OR

Immediate Download and Video DVD (plays in your DVD player)
You get immediate access to the download page. That's right, you can have this information in the next minute sitting on your computer's desktop.
You quickly download the videos and you're all set. I've provided easy download instructions at the download page. This is simple...
If you order either the CD or the DVD version, your CD or DVD will be shipped to you within 1 business day of your order.
GUARANTEE: You're at zero risk with your purchase. I want you to get your plantar fasciitis injury fixed.
If for any reason you are not completely satisfied with your purchase, just give me the word, and I'll immediately refund 100% of your purchase price. As they say, no questions asked...
Let's get you started right now. Just choose the version you want.
The exact same video files for this product are included in each version listed below.
Questions...?
Start with my Frequently Asked Questions page
Thanks and looking forward to helping you...
Brent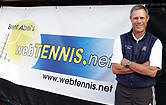 Stretch-Rite Trainer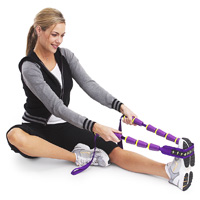 Jon Benson's Weight Loss & Fitness Program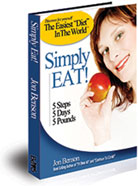 Hi Brent,

Wow! I cannot believe how quickly your methods worked Brent.
Thank you so much. I'm now back to playing tennis full time.
Jim
Dear Brent,

I've been really frustrated with this injury for months. I think I was almost depressed.
Thank you from the bottom of my heart Brent. Your videos made all the difference for me.
You gave me a plan and it worked!
Jan
Hello Mr. Abel,

My plantar fascia problem is now fixed thanks to your product.

Your icing technique gave me the most relief.

Thank you Mr. Abel.

Sasha
Hi Brent,

This foot injury has absolutely been cured by using your methods Brent.

I'm serious, I had tried everything from cortisone to physical therapy with zero improvement.

I am now back to my running schedule. (I know, I know, I'll stick to your daily foot and calf stretching routine!)

Thanks again Brent.

Patricia