"Doubles - Why & When To Be Where On The Court"
Just imagine...
You and your partner are playing the deciding league match for your team, and in fact, this match will determine whether or not your team gets to go to the section playoffs...
It's come down to match point with you returning serve, and as the "feeder", you set up your partner, your partner is now the "attractor", and guess what, once again you handle that big serve and set up your partner, your partner moves to the middle, and the put away couldn't be any easier...
Your teammates are high five-ing each other and rushing the court to get to you for a total team congrats...
Nice going and good luck in the playoffs...!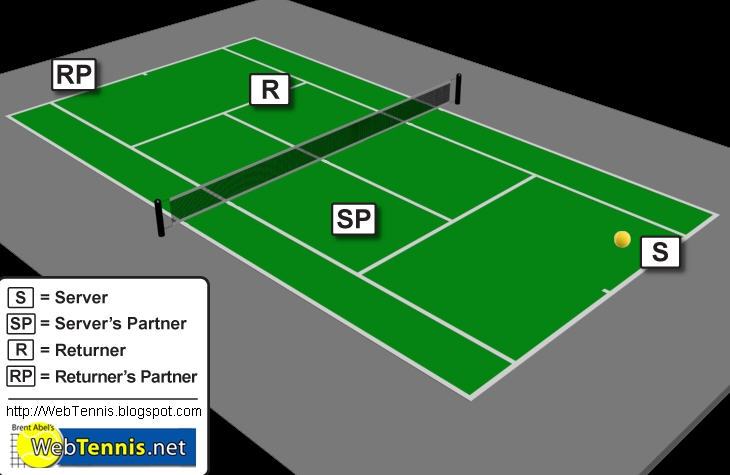 You and your partner deserve all of the congrats and pats on the back because the two of you have consistently put the rest of your teammates in a position to win matches simply because you and your partner understand double court positioning.
Both of you know exactly where to be and when to be there to force your opponents into unforced errors.
That may sound a little goofy, you and your partner forcing unforced errors, but excellent court positioning )where you and your partner are on the court at any give moment) is the biggest challenge for opponents.
Look, you can try to rely on trying to hit really difficult winners in doubles OR you can learn the fundamentals of doubles court positioning AND set yourself and your partner up to hit winners off of much easier balls from your opponents.
You can make this happen...
This is a 21 video chapter lesson that pinpoints the precise court positioning for each player on the court in doubles.
Brent diagrams exactly why & when you want to be where in just about every possible situation in doubles.
Here is Chapter #16: "Follow The Ball"
Here is Chapter #6: "When Both Partners Are Up At Net"
End the mystery of where to be on the court in doubles and increase the number of easy put-aways for you and your partner...

Discover who is the "feeder", the "attractor", and the "protector" in doubles...

Finally break the code of the "lob kings and lob queens" and make them pay for staying back on the baseline and trying to make your life miserable with yet one more lob...
100% player satisfaction money back guarantee.

Unlimited email and telephone support by Brent
You Get Immediate Online Access To The Lesson Videos For Only $39